With the global economy facing extreme levels of disruption, many retailers are under pressure to pivot quickly in order to adapt. But the reality is, in a global marketplace disruptions are possible at any given time, to any degree of impact. That's why it's so important now more than ever to have systems in place to automate workflows and processes.

Whether it's having rapidly adapting forecasts or working with limited information, we understand the challenges you face. That's why we built Fuse - to alleviate these pain points and help brands scale. Below are some ways we've helped our customers adapt to the forth-coming challenges of 2020, and how you can use Fuse to strengthen your business too.
What is Fuse? Fuse is mission control for your inventory. We centralize sales, warehouse/3PL, and supplier data to create a smart forecasting and planning solution designed for fast-growth brands like yours.
Set up an agile and transparent supply chain
There are many reasons to have agility in your business systems. When it comes to supply chain, flexibility will be crucial in unexpected times. Setting yourself up with the ability to pivot on products will be beneficial as trends abruptly emerge.
Fuse makes decision making easy with granular visibility into your supply chain. Knowing the demand, supply, incoming and on-hand inventory levels across each of your locations and sales channels is key to a nimble and responsive supply chain.
Automate your forecasting and workload
With volatility in supply and demand, strength and agility in forecasting will be crucial to the long term success of your business. Fuse's statistics based algorithm generates demand forecasts by SKU so that you don't have to. To harness your ability to pivot, Fuse also offers dynamic reporting which is crucial in highlighting demand variances to plan.

The unfortunate reality of businesses cutting costs translates to smaller teams with perhaps greater workload. This is when technology will be most critical. Tools like Fuse automate operational processes so that supply chain teams can still work effectively. After all, time saved is time spent better elsewhere.
Tighten your inventory controls
Inventory tends to be among the largest areas of spend for retailers next to marketing and overhead. Optimizing inventory levels to demand can help ensure timely return on investment and available cash on hand. Fuse's machine learning algorithms help ensure accuracy so that you're not stuck with overstock or limited by understock.
Carrying a set quantity of inventory across your product portfolio can be the easier route, but it will leave cash tied up in areas where you might be more open to risk. A thoughtful WOS target can help ensure you are allocating investments appropriately. Using Fuse can help you carry the right inventory by SKU, channel, and location.

Assess your pricing tiers
In times of economic turmoil, many retailers are quick to turn to promotions to drive immediate sales. But having variations in pricing tiers can save your brand the negative erosion and financial impact that comes with excessive markdowns. Offering low priced goods can not only serve as brand entry points for consumers in non-recessionary periods, they can also be enticing options when people are cash conscious. With Fuse's robust reporting, you can get real-time analysis of your product insights so you can spend less time in excel and more time making these strategic decisions.
Strengthen your buying power
If you're familiar with economies of scale, you know there is a cost advantage that comes with large scale production. Beyond the cost benefit, buying power also grants a competitive advantage and level of prioritization with manufacturers. But if you're an SMB, there are still ways you can gain buying power. Fuse can help you build your own economies of scale. With our vendor management portal, you can have the insights to determine if there are cases where you can bulk order with limited liability to take advantage of surplus costing and manufacturing.
Align your marketing and inventory strategies
Similar to supply chain, agility in your marketing efforts will prove useful in challenging times. Fuse lets you capture and keep track of your marketing efforts so that your inventory plans are aligned.

Analyze your customer
In challenging times, it's easy to slash prices in hopes of regaining customer demand. But this inexplicably will impact how your customer shops with you in the future. Have a pricing strategy in place for times when price becomes a barrier. Strategies can include lower entry points from alternative products, stipends for spend as opposed to discounts, loyalty programs for future discounts on every dollar spent today, and more. Use Fuse to know which strategies work for which products so that you capitalize on demand when needed.
Allocate your suppliers
A key strategy in supply chain is to limit the reliance on a sole supplier. This sort of dependency puts you at risk to absorb the challenges faced by the vendor such as factory shutdowns, over capacity, or regional delays. Having alternative options also helps you stay competitive with costs and production requirements like MOQs and case packs.
The ability to spread manufacturing is crucial for both finished goods and raw materials. Take careful steps to track the origin of supply for your goods and set up alternatives for each tier. Fuse's vendor management tools help you assess all components.
Plan ahead
Given the costs and time to implementation, technology solutions are't always at the forefront of a brand's agenda. In the face of the current pandemic, some businesses had tech solutions in the works and were able to bring forth the efforts in order to capitalize on their impact. But for those in alternative circumstances, technology was not something they could quickly pivot on. Investments in tools like Fuse brings the future into the present so that you can do something about it now.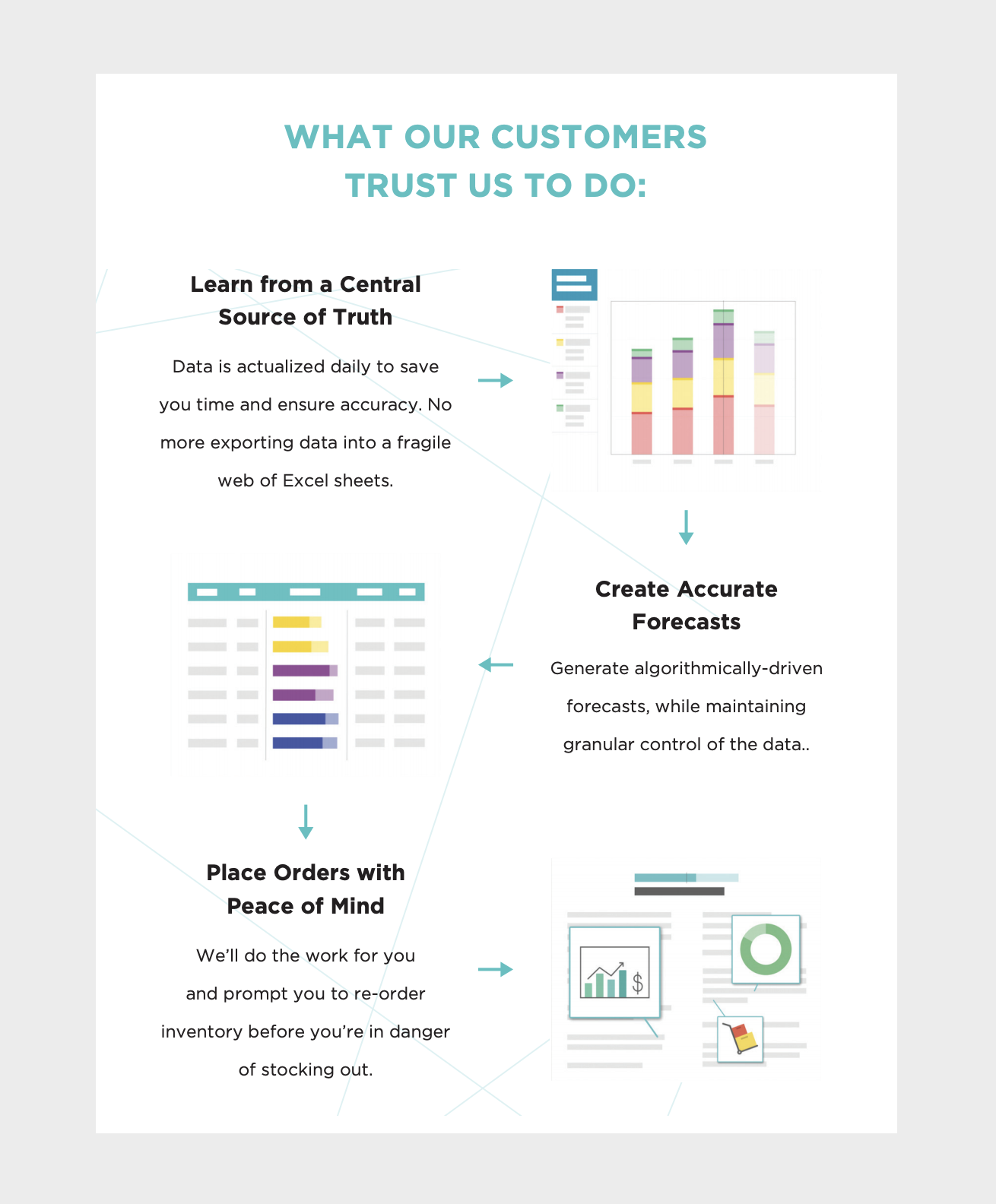 Fuse centralizes inventory, sales, and procurement data to generate a predictive forecast and inventory replenishment plan. With Fuse, data is actualized daily to save you time and ensure accuracy. No more exporting data into a fragile web of Excel sheets. Fuse generates algorithmically-driven forecasts, while helping you maintain granular control of the data.
We streamline the inventory planning process and help you manage your supply chain in real-time. As the old saying goes, "The best time to plant a tree was 20 years ago. The second best time is now." Master your cash flow and optimize your business today with Fuse Inventory.
Fuse is an inventory forecasting and planning solution designed for modern brands.
Fuse Inventory // Powering the Future of Commerce
hello@fuseinventory.com