Whether the result of the coronavirus pandemic or alternate circumstances, retailers may at some point find themselves with an undesirable amount of inventory. In today's economy, the evident shift in supply is only worsened by the forthcoming changes in demand. What started with a halt in manufacturing from overseas has evolved to the closure of shops and warehouses locally. Combined with resistance in demand due to economic uncertainty, lack of need, and concerns over safety, many brands are now at risk of carrying improper stock levels.
Having Too Little

The reality of having too little or too much inventory unfolds at different times and is dependent on a brand's product offering. Retailers experiencing inflated demand during these times include those benefiting from an abnormal stay-at-home situation. Think loungewear, at home streaming services, meal subscriptions, and of course, anything associated with fighting off diseases. While a surplus in sales may be experienced, inevitability there will be shortages attributed to manufacturing and unexpected demand. While the financial risk is minor compared to those in an overstock position, there are several measures to offset sales loss and customer dissatisfaction from stockouts.
One of the most important things a retailer can do to mitigate frustration and ease confusion is to be clear and honest with information. This includes displaying the OOS message clearly and if you can, allowing a visitor to filter or sort a page by stock level. Displaying the status of stock by noting it is "running low" or that you only have a certain quantity on hand can also be beneficial. Lastly, try to explain why you are in a short stock position if it's for reasons beyond your control. This way you mitigate the erosion of brand loyalty while fostering an honest relationship with consumers.
Recapture Demand
Beyond this, there are actions you can take to recapture demand. First, ensure you have a way of notifying a customer when an item comes back in stock. This can be done through email enrollment for back-in-stock notifications. If your website doesn't already have this feature, there are many add-on solutions available in the market.
Evaluate your supply chain to see if there are any spare parts or returned inventory available that can be modified for sale. These can be put into the production line for improvement or sold as "pre-loved" goods.
If you have more than one sales channel, you can also consider sharing non-ecommerce inventory availability. This is especially useful for brands with a strong retail presence. In the case of store closures, if you haven't already done so, try transferring inventory to your eCommerce fulfillment location to fill that channel's demand. Otherwise, consider cross-merchandising with alternative like-product recommendations. You might even find you're able to capture a larger cart value by showcasing varying products that can meet the same demand.
While sometimes less favored due to logistical or systematic challenges, another option is to allow for pre-order or pre-sale. Just be sure to clearly depict the timeline, otherwise this can lead to customer frustration. Instead of an "in stock date", consider communicating an expected delivery week based on your receipts.
Get Creative
Aside from recapturing demand, visual merchandising can be used as a tool to offset confusion and disappointment from OOS when you don't want pent up demand. If you know you'll be facing a long window without inventory, make sure the product is not featured heavily on your website or marketing assets. Consider displaying it elsewhere on the bottom of a page or list, or in some cases, hiding it entirely from your website.
Last but not least, look to your supply chain partners for help. Suppliers may be able and willing to prioritize parts of your POs so that they can fulfill OOS goods earlier than others. Though keep in mind any risks this may put on other receipts.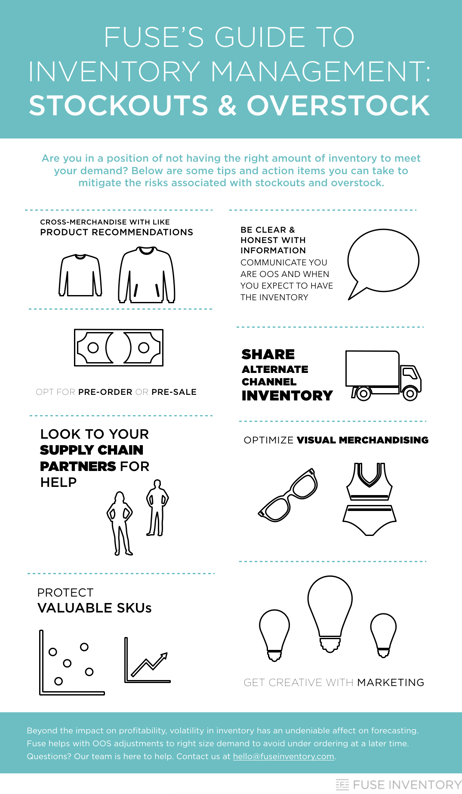 Having Too Much
With shifts in demand or stacked deliveries of receipts, you might find yourself in a position of having excess inventory. Excess can be quantified as any amount greater than your ideal WOS target. Once it is determined what is in excess and by how much, you can choose the appropriate route to sell through the inventory. While it will be tempting to slash prices or contact off-price retailers, there are other ways to monetize inventory without weakening your brand.
A silver lining in this shift of consumer behavior is the ability to do a price reset. Consumers are being untrained from cyclical promotional purchasing. Once demand is restored, take the opportunity to correct your pricing if needed.
Prioritize and protect long term and bestseller SKUs as much as possible. Preserve promotional strategies only on things that are time sensitive like parkas in the summer. Treat these discounted products as gateways for full price purchases on non-seasonal items. Promotional strategies can go beyond markdowns into more creative outlets like gifts with purchase, re-activation of past customers, or samples to acquire new ones.
Selling To Your Customer
Bundling can also be a form of moving through inventory without visibly reducing retail prices. If something is a slow seller, bundle it with a complementary product and offer a haircut on the combined price to show value. Not only will this allow you to move through the desired goods, you'll also see an increase in cart value and incentivize a purchase of a like product.
Another way to showcase complementary products is to optimize your cross-merchandising as much as possible. This can be done through product recommendations or visuals in marketing. And if these methods don't move the needle, prioritize the use of bulk discounts over markdowns to preserve product integrity. "Buy more, save more" promotions will deliver higher cart values, optimizing logistics and other associated costs.
The objective of these strategies should be to build trust with your consumers without showing desperation. Donating excess inventory to reputable causes can not only build trust in your brand, but it is also a form of good will - a measure that can't always be quantified.
Beyond product strategies, consider your innovative marketing efforts both on a product and business level. Are there any channels you haven't entered? Or regions? Off season goods can be prime merchandise in different hemispheres.There can even be alternative, more in demand, uses for your products. Considering re-marketing as a way to sell goods for a different purpose.
Finally, ensure you are taking pre-emptive measures before finding yourself in a position of overstock. In an effort to protect cash, try working with your suppliers on staggered delivered, shared risk solutions, or extended payment terms. If production has not yet begun for upcoming seasons, re-evaluate your needs and assortment. If your brand and supply chain allow, make assortment changes to products that are in high demand. Lastly, prioritize investments in top sellers over a full breadth of assortment.
Having Just The Right Amount
Beyond the impact on profitability, volatility in inventory has an undeniable affect on forecasting. Fuse helps with OOS adjustments to right size demand to avoid under ordering at a later time. Utilize stock reporting to maintain real-time ongoing visibility. Whatever your changing needs are, Fuse's machine learning algorithm adjusts daily and allows you the flexibility to easily pivot when necessary.
Questions? Our team is here to help. Contact us at hello@fuseinventory.com.